About The UK Sepsis Trust
The UK Sepsis Trust was founded in 2012 by world-leading sepsis expert, NHS consultant Dr Ron Daniels BEM.
Their goal is to end preventable deaths from sepsis and improve outcomes for sepsis survivors. They believe that earlier diagnosis and treatment across the UK would save at least 14,000 lives a year.
Their critical expertise is based on the charity's grassroots origins: their doctors and nurses have front line experience of sepsis and their passion is born of a uniquely comprehensive understanding of what needs to be done.
The urgent need to improve sepsis care in the UK drives them forward as they continue to work in hospitals, while advancing the sepsis agenda.
THEIR VISION
The UK Sepsis Trust want to end preventable deaths from sepsis.
THEIR MISSION
The UK Sepsis Trust seek to save lives from sepsis, and improve outcomes for survivors, by instigating political change, educating healthcare professionals, raising public awareness and providing support for those affected by this devastating condition. They will protect people by enabling the prevention of severe infection and the treatment of sepsis, whist helping to ensure antibiotics are used responsibly.
For the next steps in their critical mission, they need to work with others on large-scale research programmes, in order to:
Further develop our understanding of sepsis, severe infection and use of antimicrobials
Robustly examine the effectiveness of systems change and clinical practice.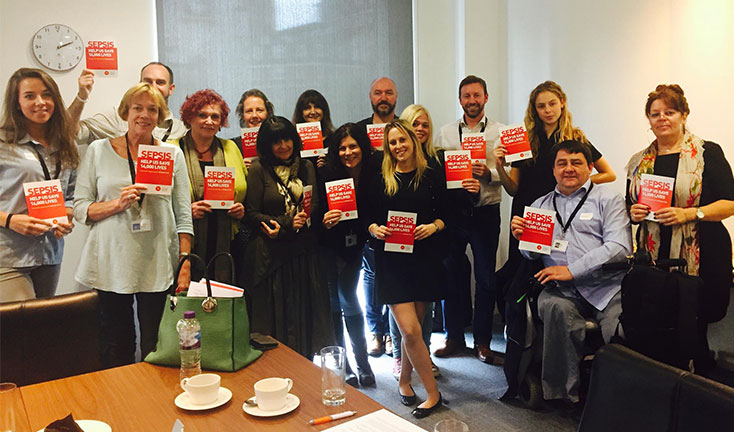 WHAT THEY DO
The UK Sepsis Trust work to raise awareness of sepsis among the public and health care professionals; encourage early diagnosis; lobby politicians to improve standards of care; and provide better support for sepsis survivors.
With their supporters' help, they are putting sepsis on the national and global agenda.
Their 'Just Ask: Could it be sepsis?' campaign has gained widespread support and media coverage; since it began, sepsis awareness among the general public has increased by 28%.
They developed the Sepsis Six in 2006 as a practical tool to help healthcare professionals deliver the basics of care rapidly and reliably.
In 2016, The National Institute for Health & Care Excellence (NICE) joined forces with UKST to release a new guideline to improve sepsis care across the NHS.
In 2017, the World Health Organisation adopted a resolution on sepsis to improve care globally and help reduce the annual death toll of six million people worldwide.
The UK Sepsis Trust also:
Provide clear information about sepsis
Help understand sepsis recovery and suggest options that may help with some of the problems you may be experiencing.
Signpost to other appropriate services that can offer advice and support
Listen empathetically to your story and help you understand what you may have experienced
Provide information on how to raise concerns about care or treatment.
If you have lost someone from sepsis, we can help you understand what may have happened to your loved one and provide the opportunity to ask questions.
GET SUPPORT
People can be affected by sepsis in many ways. You or someone close to you may have had sepsis, or you may have lost a loved one. Whatever your circumstances, the UK Sepsis Trust support team is here to help you.
Whether you're struggling with grief, having problems with your recovery or trying to support a loved one after they leave hospital, you can contact them by email or phone. Their trained sepsis support nurses are ready to offer support and advice.
Follow this link to request support via email or a telephone call: https://sepsistrust.org/support-enquiry/
Their Sepsis Support Helpline:
Their helpline is a free confidential service providing support to anyone affected by sepsis.
Trained nurses with knowledge and experience of sepsis, sepsis recovery and critical care staff the helpline. The first person you speak to may not be a trained nurse but one will get back to you within two workings days.

Calls are free from landlines and mobiles within the UK and don't appear on itemised bills.

Their helpline is open 24/7.

Call them on 0808 800 0029
For more information and to visit their website follow this link: https://sepsistrust.org/