Don't forget to check our OFFERS PAGE!
A wide range of seasonal offers are now available.
Don't forget to check out our OFFERS PAGE
or visit the Garden Centre to see the lastest deals.
AFTERNOON TEA at Camellias Restaurant
AFTERNOON TEA at
Camellias
Treat yourself and your family or friends to this delicious indulgence!
Only £7.50 per head, or why not add a bottle of Prosecco and some orange juice -
Please ask for details
Pre-booking essential
Subscribe to our newsletter
Welcome to our registration page. Enter your details here and click the submit button and you will soon be joining many of our other garden centre visitors who regularly enjoy the benefit of receiving the latest amazing deals on offer, directly to their e-mail.
We will send our exclusive e-mail vouchers to you normally every two weeks, so keep an eye out and remember to check your e-mails on a regular basis, otherwise you'll be missing out on the chance to save money on some of your favourite garden centre products. You will also receive information about events and news related to the garden centre.
Just to be sure, we won't sell your e-mail address to anyone else, do comply to the Data Protection Act and will store your e-mail address in a secured database.
Signing up means you accept our terms & privacy notice.
Plant of the Week: Japanese anemone
For long-lasting late summer colour and sheer good value it's hard to beat the cheery daisy-like flowers of the Japanese anemone. It's the perfect choice for small gardens as it looks fantastic at every stage of growth, from silky buds unfurling to wide open flowers carried high on wiry stems, to pretty bobbly seedheads and handsome semi-evergreen foliage.

Best known is shimmering white 'Honorine Jobert' with its central boss of golden stamens; other varieties to look out for include silvery-pink 'Königin Charlotte' with ruffled semi-double flowers, and two-tone 'Hadspen Abundance' in light and dark pink. They'll grow in sun or part shade in any rich but well-drained soil
Planting in the autumn
The Autumn is Natures' natural time for planting trees and shrubs. The ground is warm from the summer, but above ground it's cooler ; this mean the roots will put on good growth now, rather than the leaves, and this gives them the best possible start for the next growing season. See the superb selection of trees and shrubs at the garden centre, all waiting to go in now.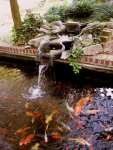 You don't need to have masses of space to enjoy the beauty and movement of a water feature. Even if all you've got is a patio in Everton, you can still have a pond: just build one in a half-barrel container.
You'll find rustic half-barrels available year-round at our garden centre. One…
Read more