Open Ground Fruit Trees
Order your open fruit tree now!
Home grown on our nursery & dug fresh from our field. Your fruit tree will be available to transplant from Mid November until February 2020. Ask a member of staff or enquire at the tills in our Garden Centre for more information.
Did you know?!
We grow & supply a wide range of ornamental deciduous trees in the ground such as:
Crataegus varieties (may tree)
Malus varieties (crab apples)
Prunus varieties (flowering cherry)
Sorbus varieties
We also grow & supply a variety of fruit trees in the ground (in addition to apples) such as cherries, pears & plums.
Grow your Own
To control the rate of growth & the size of fruit trees, they are grown on a range of different rootstocks. All our bush & trained trees are grown on the malling 106 rootstock. This means the tree has a medium vigour & will most-likely get to a height of around 3-4m. Our half & full standards are grown on malling 111 rootstocks. This is a vigorous rootstock & so you should expect to see a height & spread of about 4.5m. Some varieties* are also available as bushes on the very dwarfing M27 rootstock; the ideal apple tree for small gardens as varieties reach no more than 2 meters high.
Our Apple Varieties are:
Blenheim Orange, *Bramley Seedling, Charles Ross, *Cox's Orange Pippin, *Discovery, Early Victoria, *Egremont Russet, *Ellison's Orange, Epicure, *Exquisite, Falstaff, *Fiesta, Fortune, Gala, George Cave, Golden Delicious, Granny Smith, Greensleeves, Grenadier, *James Grieve, *Katy, Lanes Prince Albert, *Laxton's Superb, Lord Derby, *Newton Wonder, Sturmer Pippin, Sunset, *Tydemans Early Worcester & *Winston.
Our Apple Tree Forms/Shapes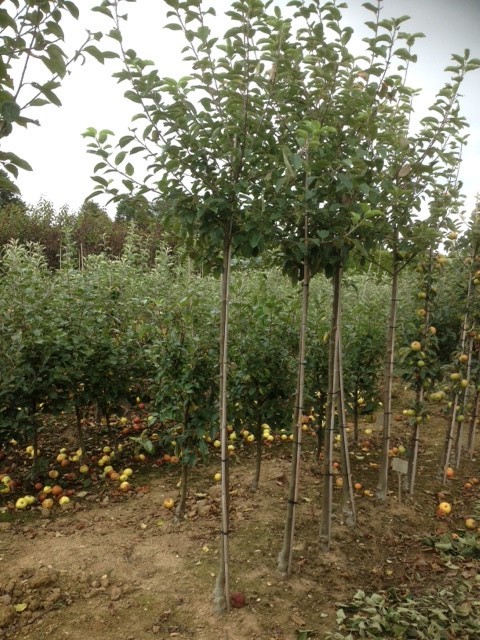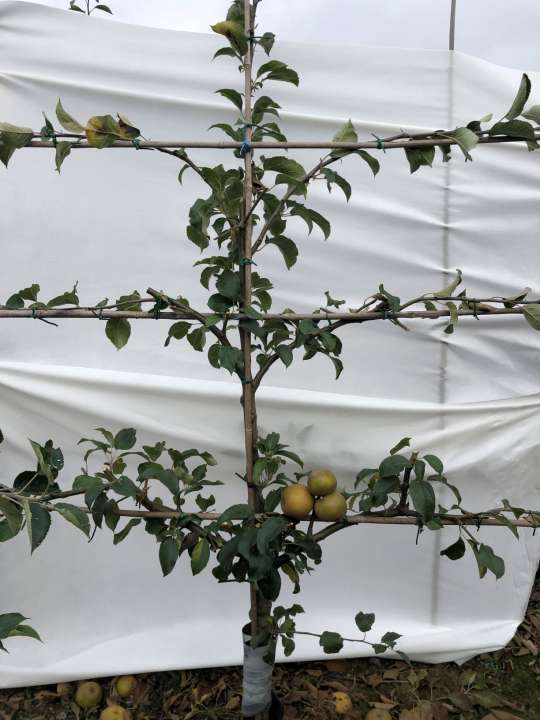 Bush Full/Half Standard Espalier
Open Ground Bush Fruit Trees are

£21.95

(Available in all varieties)




Full Standard (Approx. 170cm stem)

£36.95

(Available in all varieties)




Half standard (Approx. 120cm stem)

£32.95

(Available in all varieties)




Espalier 2 Tier

£44.95




Espalier 3 Tier

£49.95




Espalier 4 Tier

£54.95




(Espalier Tiers available in most varieties, please ask in store for more details)
Planting Your Open Ground Fruit Tree
Planting is best undertaken from November through to mid March, subject to favourable weather & soil conditions. Care should be taken to ensure that the site is well drained & if near the coast, has some protection from the salt winds. If manure is used, it should not come into contact with the roots. Bone meal may be added at planting also to enrich the soil.
Full standards & half standards require staking at planting time. Espalier trees need to be planted against a wall, trellis or fence.
Pruning & Spraying Your Open Ground Fruit Tree
All trees are root pruned before leaving our nursery. The immediate top pruning of your newly planted apple tree should consist only of shortening the previous season's growth by one third to one half; cutting to an outward growth bud. For spraying to combat pests & diseases in the future, pop in & we can advise you on what do do. We offer a range of pesticides & fungicides in our Garden Centre & are always pleased to offer helpful, knowledgeable advice.
Fruiting
Newly planted trees should not be allowed to crop until established. A few fruits would do no harm but these will usually be found to be small & out of character. If you find your apple tree is producing a heavy crop, don't panic. Pick them off. Generally, your apple tree should be safe to produce a complete crop a year after transplanting.
If you would like anymore information please do not hesitate to give us a ring on 01590 642155 or ask a member of our friendly, knowledgeable team in-store.